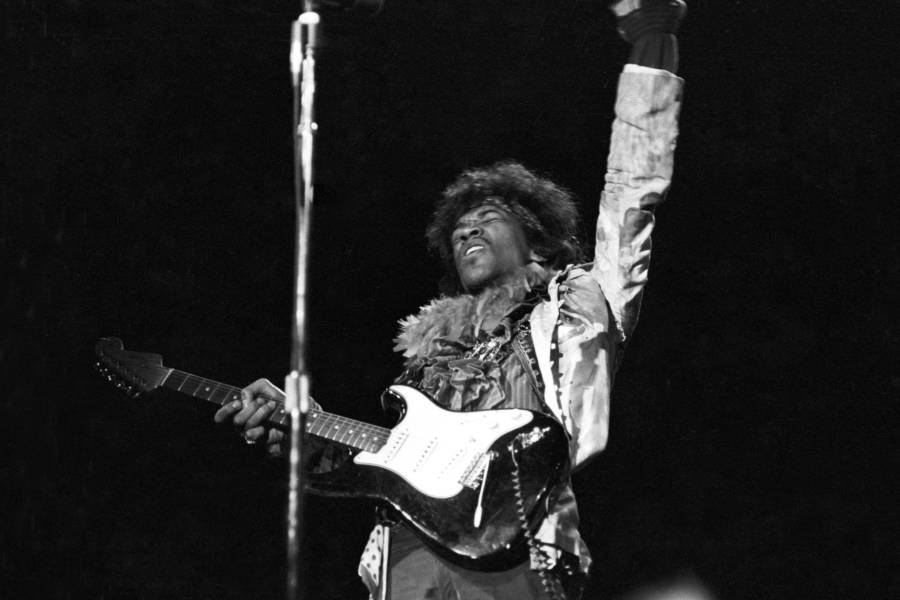 Jimi Hendrix plays his guitar onstage.
Experience the Monterey Pop Festival that saw Jimi Hendrix, Janis Joplin, and 200,000 fans come together to define a generation, pave the way for Woodstock, and change American music and culture forever.
It was the Woodstock before Woodstock.
The Monterey Pop Festival kicked off 1967's "Summer of Love" with an epic three-day concert for the ages. Held in Monterey, California between June 16 and 18, this outdoor extravaganza saw legendary performances from a host of musical icons, established the tradition of the modern music festival, and launched many storied careers. Before the Monterey Pop Festival, names like Janis Joplin and Jimi Hendrix hardly registered in the mainstream American consciousness.
Furthermore, Monterey Pop was the first major festival to bring together music acts not just from across the U.S. (Otis Redding, The Grateful Dead, Simon & Garfunkel) but from Britain as well (The Who, The Animals).
And with all this talent onboard, it's remarkable that the whole festival was organized in a matter of just seven weeks by notable figures like John Phillips of The Mamas & the Papas, producer Lou Adler, entrepreneur Alan Pariser, and publicist Derek Taylor. They wanted the Monterey Pop festival to help validate rock music as an art form — and they succeeded beyond their wildest expectations.
In addition to the artists mentioned above (all of which except Ravi Shankar donated their proceeds to charity) the promoters were able to secure performances from the Steve Miller Band, The Byrds, Jefferson Airplane, Ravi Shankar, and Buffalo Springfield. The lineup might have been even more amazing had The Rolling Stones gotten the necessary visas, Bob Dylan accepted the invitation, or The Beach Boys overcome the number of internal issues that kept them away.
Of course, the artists that did perform put on an era-defining show for the 200,000 attendees, and later for all those able to watch director D.A. Pennebaker's concert film Monterey Pop.
Although Woodstock enjoyed more publicity two years later, the true pioneer of the rock music festival as we know it today was Monterey.
In the words of actor and festival attendee Dennis Hopper, "Monterey was the purest, most beautiful moment of the whole '60s trip. It seemed like everything had come to that moment. It was a magical, pure moment in time."