A mother took to Instagram blasting Sesame Place in Philadelphia after she says one of the charters ignored her kids but hugged "the little white girl next to us!"
She called what happened "DISGUSTING" and said that they would not tell her who the character was.
After a family trip to the amusement park Sesame Place in Philadelphia, one mother posted a video on Saturday showing her two children getting snubbed by a Sesame Street character.


The footage showed two black children expecting high-fives from the Rosita character, only for the employee wearing the costume to ignore them, the New York Post reported.

The mother claimed the performer's actions are racially motivated. She posted on social media that the character "proceeded to hug the little white girl next to us."
Here is the mother's full social media post:
I'm going to keep posting this, because this had me hot. We were on our way out of sesame place and the kids wanted to stop to see the characters. THIS DISGUSTING person blatantly told our kids NO then proceeded to hug the little white girl next to us! Then when I went to complain about it, they looking at me like I'm crazy. I asked the lady who the character was and I wanted to see a supervisor and she told me SHE DIDNT KNOW !! I will never step foot in @sesameplace ever again ! And please feel free to repost this. Actually run me my money back 😡🤬so mad I stopped the video but it got me so mad when he blatantly told them no
Sesame Place apologized for the experience but denied the allegations of racism.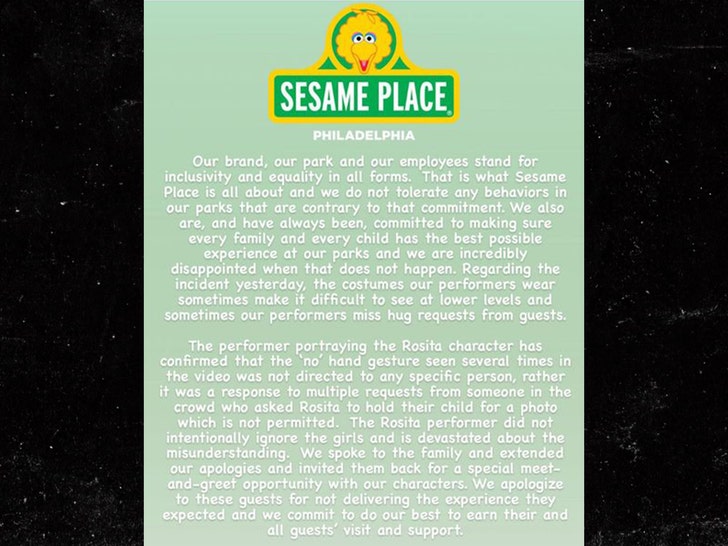 The family has now hired a lawyer to investigate the incident to see if they can sue.
A viral moment at Sesame Place amusement park appears to show Muppet character Rosita ignoring, or rejecting, 2 Black children — and now their family's retaining an attorney to investigate, and possibly sue.

B'Ivory LaMarr is the attorney repping the family who interacted with Rosita at the Philadelphia park, and he tells TMZ … they want to investigate the incident by interviewing other people who were in attendance, and evaluating other Rosita videos popping up online.
A rep for Sesame Place told TMZ that they "will conduct training for our employees so they better understand, recognize and deliver an inclusive, equitable and entertaining experience to our guests."